April 8, 2020 | ceramic roof tiles, clay tiles, Cochin, floor tiles, home design, home rooftop, kerala, kerala roof, kochi, roof tiles in thrissur, Roofing Shingles, shingles, terracotta floor tiles, terracotta flooring tiles, terracotta tiles, thrissur | No Comments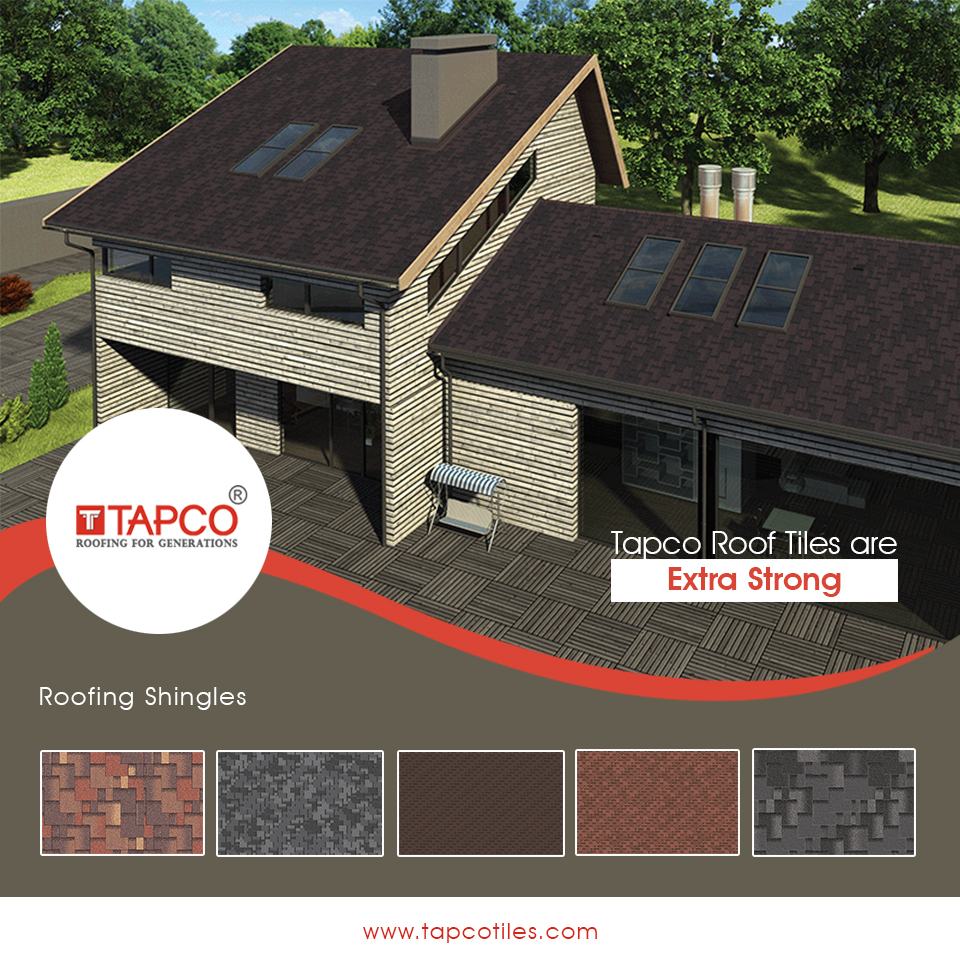 There are different varieties of roof tiles available in the market. It can be ceramic roof tiles, terracotta roof tiles or maybe shingles. The roofing shingles are selected by many people, as it looks beautiful on the roofs. But some people are not ready to choose roofing shingles. This is because the usual types of shingles are less durable and are prone to more damages. They may require more maintenance in the future. Thus it may lead to spending more money on the roofing purposes.
The Aquaizol roof shingles don't have those disadvantages of the roofing shingles. These roof shingles have more advantages and benefits. They are well known for their quality. The Tapco roofing company is the dealer of Aquaizol roof shingles in Kerala. These roofing shingles are comparatively less maintenance and many people prefer it. This is one of the widely used roof shingles in India. The Tapco roof tile brand is in the field of roofing around a century. We have a good identity of selling roof tiles of different kinds. The roof shingles had really made it great for Tapco.
THE POSITIVE ASPECTS OF TAPCO ROOFING
The Tapco roofing shingles had become highly popular within a short period of time. It has proved its quality and beauty to the customers. The Tapco's roofing shingles are one of the most used roof shingles. They are very much particular about their beauty and quality. Due to this, the Tapco is now the best roof tiles in Ernakulum. The introduction of the Aquaizol roof shingles is a milestone to the Tapco.
These roof shingles are of a high standard and meet international standards of quality. Each one is perfectly made and is quality checked before they reach the customer. These roof shingles are highly durable and can withstand the climatic changes. Especially in areas like Kerala, there will be sudden or frequent climatic changes. The Aquaizol roof shingles are performing well on such roofs. They will need only very little maintenance like the other roof tiles of Tapco roofing. Thus the Tapco roof shingles will beautifully protect your roofs along with that adorable look.
They are available in different colors and patterns. Even blended colors are available so that further painting is not required by the customers. Customers can choose among them. They can be easily installed on your roof. You can obtain other roofing services also from the Tapco. Hence providing the best roofing services along with best roof tiles.