October 31, 2019 | ceramic roof tiles, clay tiles, home design, home rooftop, kerala, kerala roof, kochi, roof tiles in thrissur, Roofing Shingles, shingles, terracotta floor tiles, terracotta flooring tiles, thrissur, wall tiles | 2 Comments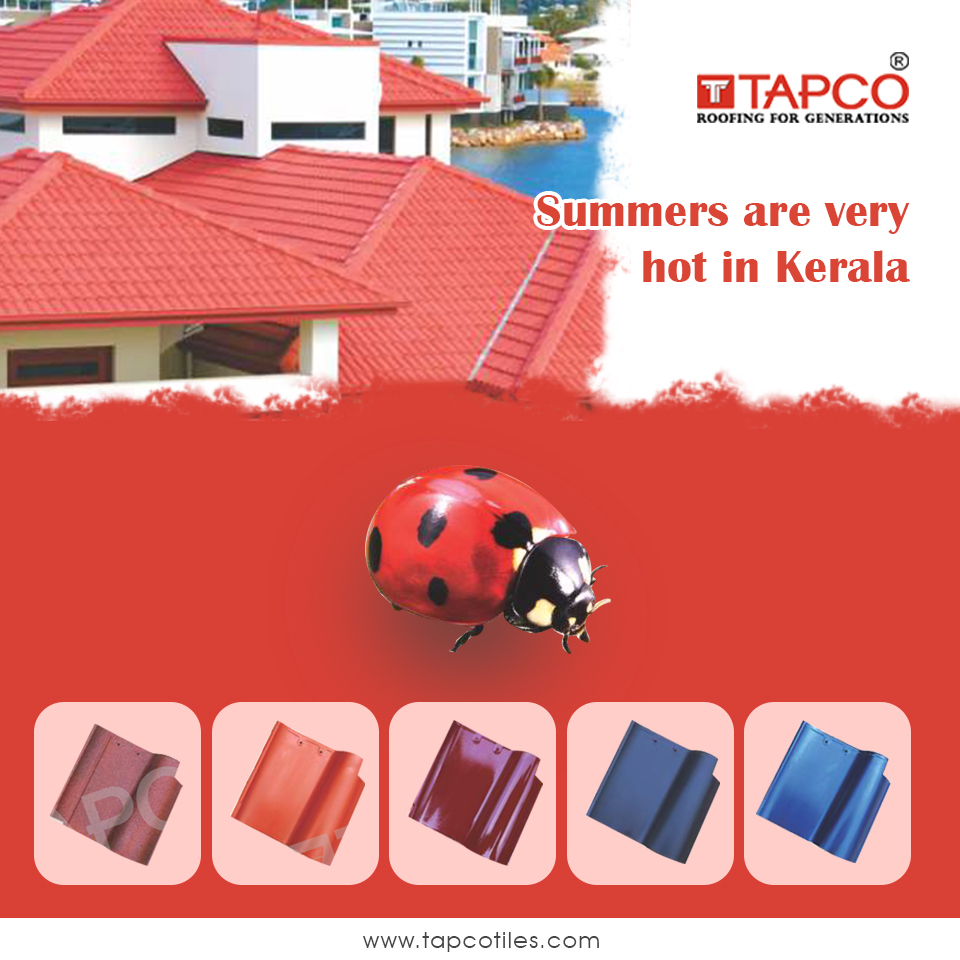 The Tapco roofing is in the field of roof tile manufacturing and distribution since 4 decades. Having good quality products that meet international standards is the reason behind the success story. The ceramic roofing had faced changes over time. The Tapco explains to you a few of the roofing hacks, which might be useful to you.
ROOF CLIPPING
The roof clipping is one of the time-intensive areas of this job. It can speed up the interlocking tile installation. Use a one-piece clip and nail; it can reduce clipping time up to an extent.
INTEGRATED TAPE SYSTEM UNDERLAY
The installation of underlay is considered as a key topic in the resistance to wind. Other than this, the security of the laps can prevent any roof damages and thereby your house.
You can use an underlay which has an integrated tape system for sealing laps. You can get guidelines from the Tapco roofing for better installation. Providing the best products and services had made the Tapco the best roof tile brand in Kerala.
DRY FIX SYSTEM
Dry fix systems have to time-saving benefits. Switching on to the dry fix systems could save you a lot of time. Particularly, when the mortar bedded tiles have additional mechanical fixing requirements. Unlike the mortar, the dry fix systems can be installed in any weather conditions as long as it is safe.
VENTILATED DRY FIX SYSTEMS
Nobody will like to have condensation or moisture content in their house. So when you have a good ventilation system it will allow the air to keep moving and it won't condense.
Keeping additional high-level ventilation could waste you more time. Thus keeping a dry fix system that already includes ventilation can save you time. It will help to provide the required continuous ventilation in your home.
CLAY FITTINGS
When you do careful planning for the clay plain tiles on your roof in advance, it can save you a lot of time on site. The purpose made fittings of roof tiles can be a real time-saver for you.
TWO DIFFERENT ROOF COVERINGS ARE JOINED TOGETHER
When you want to join two different roof coverings like the terraced or semi-detached houses, dry fix bonding can be used. It is time-saving and cheaper as compared to using lead.
The Tapco ceramic roof tiles are easy for installation and last long. The aesthetic features of the Tapco roof tiles are much higher than other roof tile brands. There is no compromise on quality because it is made up of pure clay. Thus it is the best ceramic roof tiles in Thrissur.
ceramic roof tiles in Kerala, ceramic roof tiles in kochi, ceramic roofing tiles, ceramics, clay roof tiles, clay tiles, home rooftop, kerala roof, natural ceramic roof tiles, roof tiles in thrissur, roofing thrissur, tapco roof tiles