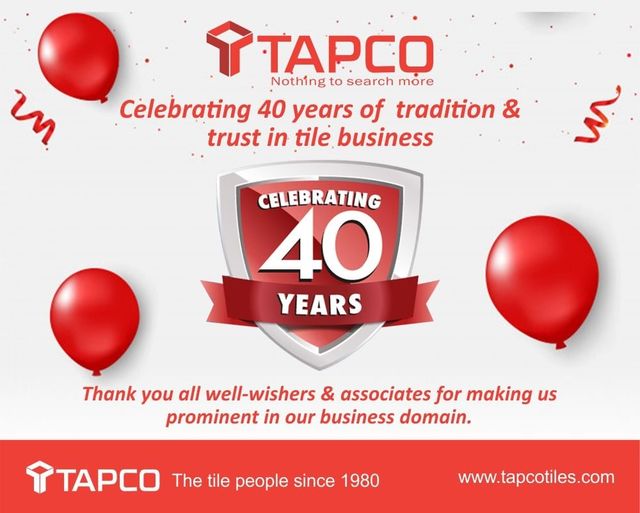 We are happy to celebrate 40 years of our tile business. We are providing real solutions and real services to make your dreams come real. The trendy and luxury range of tiles available from the house of Tapco had made us more popular. Over the years, we had tried to know our customers at the best and are creating tiling solutions by understanding their needs. With over thousands of tile varieties, the Tapco tiles are the best tile dealer in Kerala. The trust given by the customers are our reason to grow and it had led us to a successful business firm.
Providing Different Kinds of Tiles
Under the category of tiles we have all the types of tiles that are meant for roofs, walls and floors. Moreover, we have the collection of tiles made out of different raw materials. There are roof tiles made out of ceramic or clay, terracotta and also we have roof shingles. Similarly, there are different kinds of floor and wall tiles available with our brand. All the varieties of tiles are quality ensured and are made out of only environment friendly materials. The Tapco is the leading distributor of Aquaizol roof shingles in India.
Similarly, there are varieties in colors and patterns of tiles. For the roof tiles different colors and double color smudges of tiles are also available. In case of floor tiles and wall tiles, there are wide ranges of products and thus you will be able to get suitable for your kind of interiors. Most of the tiles from the Tapco are foreign manufactured. They are created under advanced technologies and meets international quality standards. Each piece of tile is quality checked before delivering to the client. Moreover, the Tapco is also the dealer of best quality jalis in Thrissur. The quality and standard ensured by the Tapco tile in all its tile products are making us more trustworthy to the customers.
Tile Installation Services
Having a good tile product alone will not give you a best roof or interior. They must be perfectly installed. A professional tile installation is also required for making the tile durable. In case of roofs, only a perfectly installed roof can look beautiful and also durable. They will be prone to less damage and thus will require only less maintenance in the future. This will also help in preventing premature failure of roof tiles. The case is same in case of floor and wall tiles. The Tapco tiles are always considering the satisfaction of the customers. We work for earning your trust and satisfaction.
best floor tile brand in Kerala, best quality jalis in thrissur, best tile dealer in kerala, leading distributor of aquaizol roof shingles in india, leading floor tile brand in kerala