January 29, 2020 | ceramic roof tiles, clay tiles, Cochin, home design, home rooftop, kerala, kerala roof, kochi, roof tiles in thrissur, Roofing Shingles, shingles, thrissur, Uncategorized | 1 Comment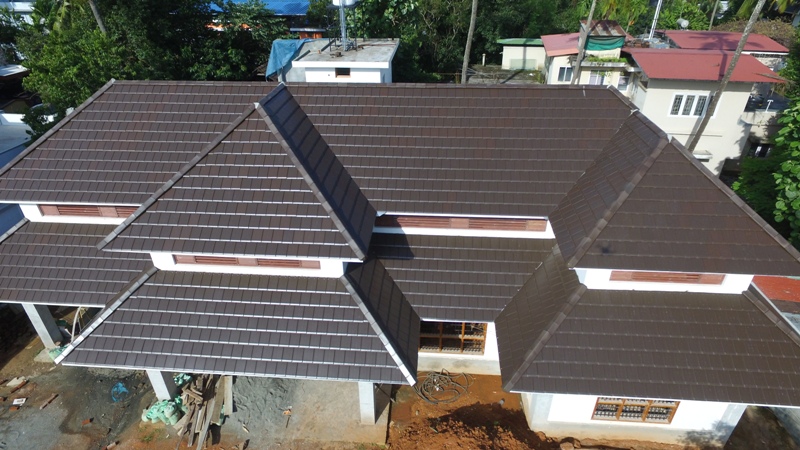 The Terracotta roof tiles and ceramic roof tiles have an accepted beauty worldwide. It is suitable for both temperate and tropical climates. The Tapco terracotta roof tiles are the best kind of terracotta roof tiles in Kerala. The roof tiles play a major role in adding beauty to the exterior part of your house. Thus, definitely these kinds of roof tiles will contribute more to this. The Tapco roof tiles are not only adorable it is also a best quality roof tiles in Kerala. They will be long lasting when installed properly and treated correctly.
COST-EFFECTIVE ROOF TILES
The terracotta roof tiles are expensive while buying it, but it can save you money in the long run. These kinds roof tiles in the world are dated back to centuries. This can be attained by better maintenance of the roofs. The Tapco roofing tiles which are made of terracotta will be surely long lasting as it is good in quality. The Tapco roof tiles are foreign imported and they meet international standards of quality. Thus these tiles Tapco roof tiles are a cost-effective solution for your roof. The Tapco roofing offers the best terracotta roof tiles in Thrissur.
BETTER INSULATION AND FIRE SAFETY
It is heat insulating and it will keep your interior spaces cool by not letting heat entering inside. It is a best way to keep your home cooler. Thus keeping your air conditioning charges less. Keeping the terracotta tiles on your rooftop will be a favorable feature for insulating different climatic changes.
It is noise resistant and will let only fewer noises to enter the home. It will give a peaceful and quiet nature to your home. This is especially suited, if you belong to an urban area. These roof tiles will help you in bringing out a more peaceful and relaxing home.
Some roofing materials are flammable but the terracotta roof tiles are inflammable. Hence it is safe to keep on your roof. Due to its fire resistant nature, it is a suggested roof tiles to keep on the houses that are prone to catch forest fires. It will be like adding a safety feature for your home.
ENVIRONMENT FRIENDLY
The Tapco roof tiles are environment friendly and cause no pollution to the environment. Choosing these roof tiles does not harm our environment and it will be a good contribution for your home. They are created with all natural products and it can be recycled. They are the best terracotta roof tiles in Cochin.
LESSER MAINTENANCE
The maintenance costs will be a burden to the home owner. The Tapco's terracotta roof tiles just like other Tapco roofing materials will require only less maintenance. It will not lack its perfection for many years. There won't be any need for spending extra money for your roof maintenance. Overall, the roof tiles from Tapco roofing are simple for your roof.